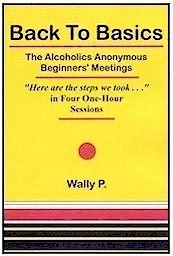 Back to Basics Meetings and Groups in Canada, United Kingdom and the United States
Wally P., is a recovered alcoholic/addict and the world's foremost authority on A.A. and its' success in the 1940's. He has personally interviewed and tape recorded almost 200 of the original A.A. Members, all of whom recovered from the alcohol addiction in the 1940's and 1950's.
"Back-to-Basics is the Step-by-Step original Alcoholics Anonymous Beginners' Meeting format that produced a 50% to 75% recovery rate from alcoholism during the 1940's. These meetings were so successful that one of A.A.'s co-founders had this to say about them:
"Sobriety–freedom from alcohol–through the teaching and practice of the Twelve Steps is the sole purpose of an A.A. group. Groups have repeatedly tried other activities, and they have always failed…If we don't stick to these principles, we shall almost surely collapse. And if we collapse, we cannot help anyone."
Bill W., The A.A. Grapevine Inc., February 1958
Order the Book, Back-to-Basics by Wally P.
Call to order 520-297-9348 or visit:
http://easycart.net/FaithWithWorksPublishingCo./Back_to_Basics_Bookstore.html
Upcoming Back to Basics, How to Listen to God, & A.A. History Workshops