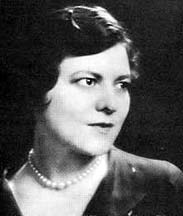 Reprinted from Mitchell K., author of "How It Worked: The Story Of Clarence H. Snyder and The Early Days Of Alcoholics Anonymous In Cleveland, Ohio" 1991.
Henrietta Seiberling Speaks Her Mind
…and the truth shall set you free…
Henrietta Seiberling was not an alcoholic. In 1933, she was a housewife with three children. But not just an ordinary housewife. She was the daughter-in-law of the founder and one-time president of the Goodyear Tire and Rubber Company. And she had much to do with the founding of A.A.
In January 1933, Harvey Sr. and his son, Russell "Bud" Firestone sponsored an appearance by Dr. Frank N.D. Buchman and his "Oxford Group team" in Akron. And, as part of the day's events, a big dinner was held at the Mayflower Hotel in Akron.
Henrietta and her son, John Seiberling, attended that first dinner and meeting as well as the balance of the meetings from January 14th through the 22nd; and, when Frank Buchman shouted to those assembled, "Get right with God," Henrietta decided to get right with God through membership in the Oxford Group.
Well, we're not out to please the alcoholics. They have been pleasing themselves all these years. We are out to please God.
When Bill Wilson, an Oxford Group member from New York, had come to Akron in 1935, he had phoned Dr. Walter Tunks, a minister affiliated with the Oxford Group. And Tunks, in turn, gave Bill Henrietta's number. Through that phone call, which was supposedly made with Bill's last nickel, a meeting was set up at Henrietta's home, the Gate house of Stan Hywet Hall, her husband's family estate.
That is where Bill and Dr. Bob Smith first met and Doc. first got his indoctrination into the idea "one alcoholic helping another." And in the ensuing years, Henrietta worked with both to help in A.A.'s founding.
But Henrietta became disenchanted with A.A.'s development as the years rolled on. According to John Seiberling, Jr., Bill and Bob told her, "Henrietta, I don't think we should talk too much about religion or God." But Henrietta responded:
Well, we're not out to please the alcoholics. They have been pleasing themselves all these years. We are out to please God.
And if you don't talk about what God does, and your faith, and your guidance, then you might as well be the Rotary Club or something like that. Because God is your only source of Power.
Throughout her association with A.A., Henrietta was always outspoken in her zeal for service to God. She had cautioned that "Money will spoil this thing." She had complained to Bill that A.A., in later years, was proceeding more on the level of psychology than through spirituality. Bill's response to her had been, "I know, but they think there are so many people that need this and they don't want to send them away" by talking about what God has done in their (the early members') lives. Henrietta felt A.A. people had forgotten their "source of Power," God.
What are your thoughts on 'GOD' talk? Have we been overly sensitive towards the newcomer that we are afraid to talk of spiritual matters? Is our talk of GOD deterring some newcomers from coming to our meetings? Has the onslaught of "Treatment Center" rhetoric to respect everyone's opinion, no matter what they wish to talk about, watered down our message and turned our meetings into "open disgusting meetings"?