WE, OF Alcoholics Anonymous, are more than one hundred men and women who have recovered from a seemingly hopeless state of mind and body. To show other alcoholics precisely how we have recovered is the main purpose of this book. For them, we hope these pages will prove so convincing that no further authentication will be necessary. We think this account of our experiences will help everyone to better understand the alcoholic. Many do not comprehend that the alcoholic is a very sick person. And besides, we are sure that our way of living has its advantages for all. (Forward to the First Edition of Alcoholics Anonymous)
The Big Book gives us one suggestion to encourage the newcomer to learn the AA way of life, on page 94 it says,
"If he shows interest, lend him your copy of this book."
Since the Big Book's publication in 1939 there has been several approaches developed to help the newcomer understand the AA way of life. Here are just a few of the ways a newcomer can experience their Big Book.
Joe and Charlie Big Book Seminars
Joe and Charlie – Specific, Precise, Clear Cut Directions – A Guide to The Big Book and Recovery(http://www.theprimarypurposegroup.com/mp3/JoeCharlie.htm). They did a line by line study of the first 103 pages. They made the unclear clear. They did it with humor, with purpose, and with brevity. Some are intimidated by this. Even the Joe and Charlie Big Book Seminars have been subjected to the comments that they violate the Traditions and that they speak of non-Conference approved literature. But the Seminars have stood the test of time, with A.A.'s own archivist from New York often participating. (http://dickb-blog.com)
Joe McQ. & Charlie P. met in 1973 ,soon they were planning meetings in hotel rooms at AA conventions in Oklahoma and Arkansas, and within a few years, the meetings grew in popularity. In 1977, some members met in a Tulsa, OK hotel room for a discussion of the Big Book. One asked Joe & Charlie to come to his home group to present a program on the book. An AA taper made a four tape set of their presentation and called it "The Big Book Study". The tapes were gradually circulated throughout the fellowship and invitations were received for Joe & Charlie to present the study at AA conventions, roundups and special events. By 1980, there had been about eight studies offered.
Studies have been given in 48 states and most Canadian provinces. Additionally, Australia, New Zealand, England, Scotland, Ireland, Germany, Switzerland, Sweden and the Netherlands have all hosted the Big Book Study seminars with Joe & Charlie.
All this growth has not come without a measure of turbulence. What spiritual journey does not encounter obstacles? Some fellow AAs have termed the duo, "self-appointed gurus". Others have accused them of making money on these weekends. Actually, only travel expenses, meals and lodging are paid for by the independent AA host committee sponsoring the study. This is in accordance with the AA Guidelines for Conferences and Conventions (MG4), published by the General Service Office. Since 1977, an estimated 200,000 AA Members have experienced the spiritual benefits of these collective studies.
The Hyannis Method
The "Big Book Step Study" (BBSS) format, based upon an AA meeting format originated in Hyannis, Mass. in the 1980's, is part of a very structured way of working the 12 Steps out of the Big Book of Alcoholics Anonymous. In many BBSS meetings, only members who have worked the 12 Steps according to this structure are permitted to share.
Usually lasts an hour and a half with no break. It's divided into three basic parts: the reading, the speaker, and discussion of the step being studied.
The Readings for the 12 Steps in the Big Book. Also known as the cycle, or step rotation, this is a 15-week rotation of readings. The chairperson announces the step, and pages in the Big Book that will be used as a topic for the meeting that night. The chairperson starts the reading by asking people to read, a paragraph at a time, going around the tables or the room. (http://www.bbstepstudy.org/?Hyannis_Format)
Here is the Step Rotation Guide
Step
Reading
Week
1
"We admitted we were powerless over alcohol…"
The Doctor's Opinion pp. xxiii-xxx
1
1
"…that our lives had become unmanageable."
Chapter 3: More About Alcoholism pp. 30-43
2
2
"Came to believe that a Power greater than ourselves could restore us to sanity."
Chapter 4: We Agnostics pp. 44-57
3
2
"Came to believe that a Power greater than ourselves could restore us to sanity."
Chapter 2: There Is A Solution pp. 17-29
4
3
"Made a decision to turn our will and our lives over to the care of God as we understood Him."
Chapter 5: How It Works pp. 58-64
4
4
"Made a searching and fearless moral inventory of ourselves." Resentment
Chapter 5: How It Works pp. 64-67
5
4
"Made a searching and fearless moral inventory of ourselves." Fear
Chapter 5: How It Works pp. 67-68
6
4
"Made a searching and fearless moral inventory of ourselves." Sex
Chapter 5: How It Works pp. 68-71
7
5
"Admitted to God, to ourselves, and to another human being the exact nature of our wrongs."
Chapter 6: Into Action pp. 72-75
8
6-7
"Were entirely ready to have God remove all these defects of character."  "Humbly asked Him to remove our shortcomings."
Chapter 6: Into Action pp. 76
9
8-9
"Made a list of all persons we had harmed, and became willing to make amends to them all."  "Made direct amends to such people wherever possible, except when to do so would injure them or others."
Chapter 6: Into Action pp. 76-84
10
10
"Continued to take personal inventory and when we were wrong promptly admitted it."
Chapter 6: Into Action pp. 84-85
11
11
"Sought through prayer and meditation to improve our conscious contact with God as we understood Him, praying only for knowledge of His will for us and the power to carry that out."
Chapter 6: Into Action pp. 85-88
12
12
"Having had a spiritual awakening as the result of these steps, we tried to carry this message to alcoholics…"
Chapter 7: Working with Others
pp. 89-96
13
12
"…and to practice these principles in all our affairs."
Chapter 7: Working with Others
pp. 96-103
14
Primary Purpose Groups
Primary Purpose Group Big Book Study Meetings are based on following a Big Book Study Guide which examines virtually every sentence in the Basic Text for Alcoholics Anonymous.
The purpose of this Study Guide (http://www.ppgaadallas.org/study_guide.htm) is to enable the student to understand the information the authors of the book, Alcoholics Anonymous, intended to impart to each of us based on their experience and knowledge of alcoholism and their Program of Recovery. It can be used by an individual or by a group. This Guide is intended to examine the content of virtually every sentence in the basic text of the Big Book.
Example: Big Book Study Guide: Chapter 3: More About Alcoholism (Page 30)
(P)
1. What are most alcoholics unwilling to admit?
2. What would nobody like to think?
3. What do our drinking careers demonstrate?
4. What is the great obsession of every alcoholic?
5. What is astonishing in the life of an alcoholic?
6. Where does the obsession or the illusion take many of us, in fact, most of us?
(P)
7. What did we learn that is absolutely necessary for success in sobriety?
8. Why is this so important?
Comment: Until the problem is completely understood, the solution will be out of reach.
9. Like the obsession and illusion, what must happen to the delusion?
(P)
10. One more time, what is the alcoholic's problem?
11. What do we know?
12-a. What have all of us believed on occasions?
12-b. Where did this lead us?
Comment: When we speak of a "bottom," is it a set of external events or just a single emotional event within each of us?
14. Of what are we convinced?
15. Will it get better?
(P)
16-a. Who are we compared to?
16-b. Why?
18. What treatment will let us become like other people where drinking is concerned?
Big Book Muckers/Bookers
The Muckers are a rising rebuttal to the watered-down recovery program of "Just don't drink and go to meetings" in the Greater Toronto, Ontario, Canada ara. Recovery rates had dropped to less than 10% percent in the late 1980s and were answered by a "Back-to-Basics" revival of the original, undiluted 12 step recovery program of the early 1940s where recovery rates were as high as 75% to 93%.
The Muckers are a group of men and women who have recovered from a seemingly hopeless state of addiction and alcoholism, using the 12 step program as outlined in the book "Alcoholics Anonymous". Central to the Muckers methodology is the action of a single recovered addict or alcoholic, guiding another addict or alcoholic through the Big Book. Muckers have discovered through experience that this one-on-one approach, as described in Chapter 7 of the Big Book, is a powerful method of working the 12 step program of recovery.
What is "Getting Booked"?
The focus is the Big Book; Muckers use no other text. The emphasis is on the first 89 pages of the Book, which have not been altered since originally published in 1939. The process of one addict/alcoholic guiding another through the Book takes between 24 and 30 hours, usually done in 2 – 3 hour sessions, typically over a period of 2 – 3 weeks. In the process, Muckers write comments and notes, circle words and highlight passages in the Book. (Muckers are called Muckers, because they muck up the Book!) During this period of "being booked", the individual actually performs the first 11 steps of the program.
The purpose of this brief, intense process is to jump-start the program for the individual. The goal is to facilitate the "vital spiritual experience" as described throughout the Book, and to give the individual the tools to subsequently maintain and grow that experience. Once the individual has had this experience, we find that the addiction, that is the mental obsession is removed. Subsequently, much of the maintenance and growth of the spiritual experience is achieved by working Step 12. This means working directly with other alcoholics/addicts. Once recovered, the individual is encourage to pass the process on to someone else – to give it away. While other forms of service are not discouraged such as helping out at meetings, i.e. making coffee, setting up chairs etc., this is considered courtesy NOT Step 12 work.
Download a "mucked" Big Book muckers-big-book.pdf
Back to Basics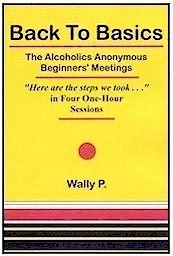 "Back-to-Basics is the Step-by-Step original Alcoholics Anonymous Beginners' Meeting format that produced a 50% to 75% recovery rate from alcoholism during the 1940's. These meetings were so successful that one of A.A.'s co-founders had this to say about them:
"Sobriety–freedom from alcohol–through the teaching and practice of the Twelve Steps is the sole purpose of an A.A. group. Groups have repeatedly tried other activities, and they have always failed…If we don't stick to these principles, we shall almost surely collapse. And if we collapse, we cannot help anyone."
Bill W., The A.A. Grapevine Inc., February 1958
Wally P. is an AA Archivist from Tucson, Arizona, a recovered alcoholic and the world's foremost authority on A.A. and its' success in the 1940's. He has personally interviewed and tape recorded almost 200 of the original A.A. Members, all of whom recovered from the alcohol addiction in the 1940's and 1950's. For two years he researched and studied areas of the country that held "Beginners' Classes". He then started teaching the classes under the guidance of his sponsor who took the classes in 1953 and never drank again. In March of 1996 Wally mentioned the "Beginners' Classes" as part of his historical presentation at the Wilson House in East Dorset, Vermont. Wally then wrote and published a book entitled "Back to Basics: The Alcoholics Anonymous Beginners' Classes – Take all 12 Steps in Four One-Hour Sessions." Wally P. has a website containing much information on the AA "Beginners' Classes".
Order the Book, Back-to-Basics by Wally P.
Call to order 520-297-9348 or visit:
Upcoming Back to Basics,
How to Listen to God, & A.A. History Workshops
What is your favourite approach to reading the Big Book with Newcomers?