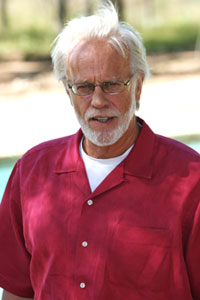 Mark David Houston, died suddenly on February 19, 2010. He was 63.
Mark was born in Iowa on October 14, 1946. One of four boys, Mark spent his childhood years working on his family's farm in Corydon, Iowa. Mark's accomplishments include: U.S. Army Vietnam Veteran, BA – University of South Dakota, Director of Admissions – La Hacienda Treatment Center, Hunt, Texas, CEO – Burning Tree, Kaufman, Texas In July of 2006, Mark founded the Mark Houston Recovery Center (MHR) outside of Austin, Texas in order to provide a safe and secure environment in which he could lead adult men out of the debilitating grip of drug and alcohol addiction, and into lives of permanent sobriety and abundance.
In October of 2009, Mark opened a similar facility for women outside of Austin. Mark's vision spread throughout recovery circles worldwide. He was called upon to speak and do workshops on the 12 Steps throughout the United States and Europe. In 2004, Mark co-authored a book called "A Twelve Step Journey to Self-Transformation" which is a recant of his personal experiences in working the 12 Steps with a man named Floyd. Mark continued to work directly with alcoholics and addicts, as well as their families, on an individual basis both in his community and at MHR until his death. Mark will be well remembered for devoting his life to ending the suffering of alcoholics, addicts, and their families.
Mark was preceded in death by his parents, Robert Charles Houston and Iola Marlus Johnson Houston. He is survived by his son, Chad Winters; aunt, Lavonne Skiye; brother Earl Torger Houston and wife Jane; brother Richard Lowell Houston and wife Pamela; brother, Nels John Houston; and cousin, Grant Jordan and wife Martha. In lieu of flowers, kindly donate to your local intergroup chapter of Alcoholics Anonymous.
There will be a memorial service for Mark Houston on Sunday, February 28, 2010, from 2:00 p.m. – 5:00 p.m. at the Austin Music Hall, 208 Nueces St., Austin, TX 78701.
Post Script: The Southern Ontario Cocaine Anonymous Convention was fortunate to have Mark Houston speak at their 2009 Convention. Here are two outstanding messages of hope and recovery delivered by Mark Houston.
Mark H. (Texas) 10, 11 & 12 Launching Pad to the 4th Dimension
Mark H. (Texas) Keynote Speaker